Campsite
Facilities
Dogs
Camping with dogs
Bedgebury Camping is a dog-friendly campsite.  We ask that dogs are kept on leads at all times in the camping fields and that owners take full responsibility for their pets including cleaning up after them and ensuring they do not cause a disturbance to other campers, livestock, local wildlife or walkers. 
Rules and etiquette of camping with dogs at Bedgebury Camping
As we are a family campsite situated on a farm we cannot accept any dangerous breeds, Bull terriers including Staffordshire's, Rottweiler's or Alsatians or any dogs which show aggressive behaviour towards other animals or children
Please only bring well behaved pets; a dog prone to barking will cause annoyance to other campers
Please clean up after your pet and dispose of the waste in the appropriate bins
Please keep dogs on a leash at all times whilst in the campsite
Ensure that they do not intimidate livestock, local wildlife or walkers
A maximum of 2 dogs per family group
Please note that the Management reserve the right to ask patrons to leave the site if their pets are causing disturbance or pose a health risk to other patrons.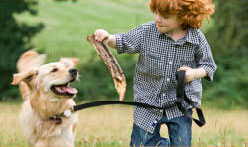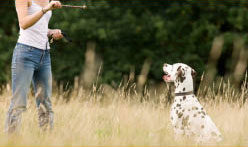 Equipment for camping with dogs
A collapsible cage for your pet to sleep in at night and to settle in during the daytime, but never leave your pet in his cage and go out for the day
Plastic food bowls and water bowls for pets, it is also well worth considering a non spill travel bowl that has a lip around the rim of the bowl that stops water being spilt
Bagged up daily food rations for the number of days that you are away
A small holdall with his bowls, blanket, towel, brush and food packed in it means that all his equipment is stored in one place. If your pet is on medication this can be stored in his bag along with his other possessions
For larger pets there is a metal screw available from camping suppliers that can be screwed into the ground and has a loop for the lead to be attached to for safety
Just as you would carry a first aid kit for the family you can also have a kit for your pet, available from most pet stores
An extra tag for your pet's collar in case he is lost. Perhaps with the words 'I am on my holiday' and a mobile phone number would be a good idea as he would then be returned to you faster
Camping with the family pet can be a pleasurable experience if a little thought and planning is made in advance.
Pet Injuries and illness
There is a local vet a short distance from the campsite:
Goudhurst Veterinary Surgery
Bedgebury Road, Goudhurst, Kent, TN17 2QT
Tel: 01580 211981
Cost for pets at Bedgebury camping
There is a small charge for bringing your pet camping (Prices)