Campsite
Facilities
Camping at a child friendly campsite
Bedgebury Camping welcomes children on site. It is a child friendly campsite with several fields and open spaces across the campsite, children have the opportunity to play a game of football, cricket, Boule or Frisbee with the family.
Children can find hidden spots to build a camp, or play hide and seek, amongst a wide variety of cool animals and small critters. With no main roads close by kids can really experience the sounds and fresh air of the Kentish countryside.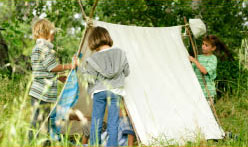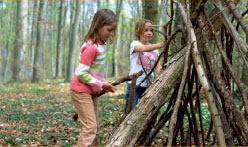 On part of the campsite there is a grass hill where children can fly kites, run up and roll down or simply enjoy the views. Returning to your pitch the family can make paper planes, juggle, build clay models and mini rafts, there really is no limit but your imagination.
Children's Bushcraft Courses and archery
There are child friendly activities at Bedgebury Camping. If you'd like to learn more about how your ancestors survived, Bedgebury Camping offers the opportunity for families to experience and improve their bushcraft skills, including fire lighting, shelter building and outdoor cooking. There are also archery courses taking place.