Campsite
Party Members
Families
Family Holiday Focus
As a parent, you know the importance of fresh air and open space for your child. Spending time outside beats staring at a screen every time and this is why a few days with your family camping in a pretty part of the countryside can revive you and bring you closer together as a family.
Forget the ironing pile, the lawn that needs mowing and the one hundred and one other jobs which always need doing, when you are camping you are pretty much forced to relax. Going camping with your children means being the parent you probably don't often get to be – that is one who can devote your entire holiday to having fun with your family.
Playtime at the campsite
Acres of fields and other children to play with: could life get more perfect for your child? That is what we have at Bedgebury Camping.
Little ones don't seem to get bored with playing 'Pooh Sticks' and there is a shallow steam at Bedgebury Camping which is ideal for this game. (The same stream can be used by the grown-ups to keep drinks cool too!).
At Bedgebury Camping we also have stunning teepees for use by campers when the weather is not so good and which contain small tables and seats. This area can be the location for a game of cards, painting/drawing, a board game or perhaps just a hot chocolate.
And when they fancy something different, what about wild-life spotting? We have seen barn owls, kingfishers, woodpeckers, stoats and deer in the area. Not to mention the bats which flit around at night.
The outside really is a playground waiting to be discovered.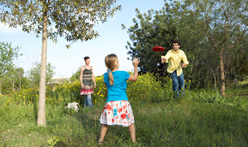 Mealtimes at the campsite
At Bedgebury Camping campfires are permitted. As long as it is supervised, the campfire can provide the focus for the whole family when the sun goes down. The novelty of cooking over an open fire can make mealtimes fun again and you won't even have to worry about dropping a few crumbs off the plates.
Of course, pudding doesn't have to involve marshmallows, but you can't go camping and not have them at least once – toast them on a stick over the campfire untl they are a bit golden and crunchy on the outside and meltingly soft in the middle.
Good clean camping fun
We have installed a cast iron bath in our 'Bedgebury Bath House' so you can wash the dirt off even the filthiest of children as long as they sit still while you tip a bucket of warm water over their heads. Our individual shower cubicles also allow parents to supervise shower time.
Children's camping bedtime
Most seasoned campers will vouch for the fact that children tend to go to bed later than usual when they go camping. Running around in the dark with your old and newly made friends when it has gone 'bedtime' for children is the best way to have fun particularly when it involves torches, glow sticks and the odd meteor.
A day of outdoor adventures will pretty much guarantee that once you have persuaded your little darlings that it is finally bedtime, they will sleep like happy logs.