Planning your stay
Bushcraft
Adult Bushcraft
Are you looking for a new experience, something a bit out of the ordinary; Bedgebury camping offers a number of courses teaching bushcraft skills for those looking to try their hand at something new.
The following courses can be provided on special request, please contact us for further details.
Adult Bushcraft Courses for Groups
Courses for the over 12
Courses are between 2 to 3 hours but longer courses can be arranged as required. Numbers are restricted to a maximum of 12 people per course. No equipment is required just a willingness to learn.
We can tailor your course according to the abilities and interests of the group. Either choose your own package by selecting 3 activities from the list below, or a simple taster session can be arranged where you can try a lot of the activities listed as shorter classes, all in a stunning woodland and meadow teaching area.
Spoon Carving
Learning to carve a simple spoon employs a range of different skills that, once mastered, will allow you to carve a whole range of camp-craft items. All of the tools are supplied and we also look at sharpening and maintenance of this essential bushcraft tool. By the end of this class each person will have produced a useable spoon, which we guarantee won't be your last!
Guided Foraging and Nature Awareness Walk
In the days before chemists, super markets & DIY super-stores, people gathered all they needed from the countryside that surrounded them. All of those resources are still there for those who know what they are looking for. Foraging isn't just about finding free foods – it's about recognising all that can be utilised around you. Our two hour wander will give you a good introduction into the world of the forager.
Primitive and Modern Fire Lighting
Discover the secrets of fire lighting!
A reverse history of fire techniques, from the very modern to the very primitive. All of the methods shown are "tried & tested", but still you will be amazed by some of the methods shown. A class that will open your eyes to what is possible with a few essentials!
Shelter Building
Learn how to create a shelter with little more than a knife to help.
Fireside Bread Making
The quick and easy way to create a simple bread to accompany your foraged meal.
Game Preparation and outdoor cooking
Using locally sourced game you will learn to draw, dress and joint the supplied wild meat (usually pigeon or rabbit). Various techniques for cooking outdoors will then be discussed, and demonstrated.
This 2 hour course costs, £25, all equipment is supplied with a meal to take away, which will feed approximately 2 people. Please note that a minimum of 2 weeks notice is required for this course.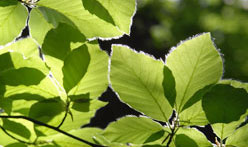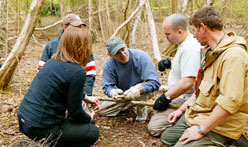 Specialist Bushcraft Courses for Groups
Depending on the availability of particular Bushcraft instructors we can also offer the following courses:
Hedgerow Brewing
Create your very own alcoholic brew using plants commonly found in hedgerows or on country walks. The course will start with a forage for ingredients, you will then learn the secrets of turning flowers, leaves or fruits into wines, beers or "Champagne".
At the end of the 2 hour course you will take away a gallon container of your own to enjoy at a later date. Some samples of the tutors own "brew" will also be provided for you to try, as part of the £25 per person cost. Places are limited and need to be booked in advance.
Basha Boat Building
Man has used boats for fishing, travel and pleasure for centuries.
To a bushcrafter having a boat means you can cross rivers, fish & forage in places you may not normally be able to get to. Learn how to make a simple craft and find out if it works, if you're brave enough!
Tools & Weapons
Our ability to create tools from what we find around us is a skill that has almost been lost.
Tools for crafting, hunting & foraging can all be made with just a little knowledge. Come along and learn this lost Bushcraft skill.
Booking
You've seen the programmes on TV, and now is the opportunity to try your hand at some simple and more complex bushcraft skills. For further information please send an e-mail to Leigh.Sansom@bedgeburycamping.co.uk