Planning your stay
Bushcraft
Junior Explorer
Camping Overnight in the Woods
For ages 9 – 16
Let your child try out their bushcraft skills with an overnight sleep out. Over the bank holiday weekend Bedgebury camping in partnership with local bushcraft experts are offering the opportunity for a limited number of children to camp out in the woods. Whether your child is looking to learn something new or extend their bushcraft knowledge this will give them the change to spend more time honing their skills under expert tuition.
Bushcraft Activities
The experience starts with the building of the overnight shelter, with lessons in tying knots and hitches. A fire is made using one of a number of fire lighting techniques, over which a bush meal is cooked. There follows some simple lessons in astronomy and the identification of the big dipper. In the morning there will be instruction on tools and weapons followed by some target practise.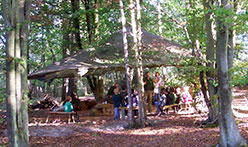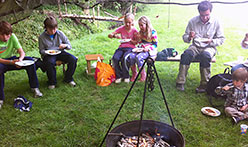 Timetable and Equipment
The course starts at 2pm on the Sunday of the August bank holiday and runs until 12pm on the Monday of the August bank holiday. All attendees should meet at the bushcraft canopy. Each child will need to bring the following items: Roll mat, Sleeping bag, Torch, Plate, Cup, Cutlery, a change of clothes, a waterproof coat and toiletries.
The course costs £45 per child and requires a minimum of 8 people.
Booking
For further information please send an e-mail to jim.henley@bedgeburycamping.co.uk