Booking
Frequently Asked Questions
Frequently Asked Questions and Answers about camping at Bedgebury
Below are the most common questions we get asked about camping at Bedgebury Camping. You should find the answer to your question here, however if you can't find the answer please use the search box to search the rest of our website.
We have broken our questions into various sections. To go straight to a certain section please click on the relevant link below.
---
GENERAL
Why is Bedgebury Camping only open for certain days during the year?
We only have permission to undertake camping activity for a total of 28 days during each year. These days are chosen based on camping demand, staff availability and local events.
When are the days that you will be opening the campsite decided?
The new dates for the coming year are posted on the website at the start of the year, please click here for the current dates.
Will there be music/catering on site during my stay?
All the music events are organised for the August Weekends, with local restaurants and catering companies providing the food and drink. On most of the other weekends a catering vehicle is usually on site, however it is not always possible to provide this service. If this is important to your stay please contact Bedgebury Camping prior to booking for further information.
Do you allow campervans?
Yes
Do you allow tourers?
No, the campsite doesn't have electricity or waste disposal points.
Do you allow trailer tents?
Yes
Do you allow caravans?
No, the campsite doesn't have permission for caravans.
Can I camp with friends in another group?
Yes, when booking please state the name or booking reference of the other group/s and we will allocate you all to the same area.
What time can I arrive at the campsite?
You can arrive any time after 9am until 7pm on the day of your stay.
What time do I need to depart?
Please depart by 12 noon after the night of your stay.
Can I request a specific camping field?
The site has a number of camping fields that have been set aside for particular types of groups. Each booking is reviewed to establish which part of the campsite will be the most suitable for that booking. It is possible to reallocate you to another area but this depends on your circumstances and the availability in the area you wish to be moved to.
How do you allocate pitches?
There is no pitch allocation at Bedgebury Camping we operate on a first-come basis for camping spots. Arriving early will give you an increased choice of potential pitches.
Can we have campfires?
Yes, campfires are allowed. The campsite provides firepits, with wood, kindling and marsh mellows are all available on your arrival at the shop.
Can we bring our own wood?
Yes, so long as they are untreated logs, the burning of pallets or treated wood is banned as these can give off toxic fumes and leaves huge numbers of nails, all of which can be dangerous. Seasoned Logs are available at the shop and a wood delivery is taken each evening around 5pm.
Can we collect wood from the woods?
Fallen wood provides food for various fungis and beetles in turn providing nutrition for the trees, plants and animals. To maintain this eco-system we would appreciate your co-operation by not collecting or chopping down wood.
Are dogs allowed?
Yes, but this is restricted to 2 for each booking. Those not cleaning up after their pet will be asked to leave with no refund.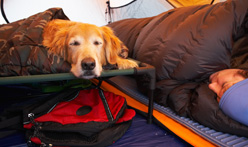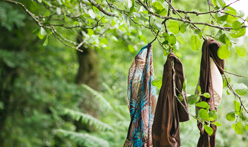 ---
FACILITIES
What facilities do you have on site?
There are a number of hot showers, housed in moveable shower units, which are regularly cleaned. All the washing up sinks have hot water and are a short distance from most pitches. The main toilets are in the centre of the campsite, however numerous eco-toilets are set out across the site for convenience, all of which are regularly cleaned.
Do the Eco-loos smell?
They tend to smell earthy due to the use of sawdust. Each unit is regularly cleaned and restocked with toilet roll, most have a sink attached for washing your hands.
Do you hire out mountain bikes?
No, but there are local companies that do. Please let us know on arrival.
---
BOOKING/CANCELLATION
What are the costs of camping?
Costs are based on a per person per night basis and a nightly car parking charge.
How do I pay?
We have a variety of methods for payment including direct bank transfer, PayPal, cash and cheque. Please be aware that we charge 2.5% for using PayPal services.
When do I need to pay?
A deposit is required to secure your booking, the outstanding balance is expected 2 weeks prior to arrival.
Can I change my camping booking?
Yes, you can login to your account and change your booking.
How do I get a refund?
There is no refund for the deposit, which is paid to secure your booking and space. If you have paid in full then a refund for the difference will be paid if you cancel more than 2 weeks prior to your arrival. No refund is made if you cancel within 2 weeks of your arrival.
Can I arrive on the day and camp without booking?
During weekdays this would not be a problem, however weekends can get very busy and we limit the number of people coming on to the site. If we have availability then camping on the day is possible, but to avoid disappointment we would recommend booking.
How do I book Activities?
All activities including Bushcraft courses can be booked and amended through the Online booking system. At present it is not possible to book a course without a camping trip. If this is the case please contact us by email at customerservice@bedgeburycamping.co.uk and this can arranged for you.
When you are fully booked, do you have a waiting list for cancellations?
If you wish to be informed of any cancellations please let us know and we will do our best to try and accommodate you.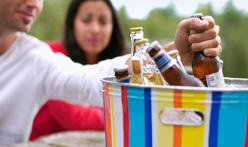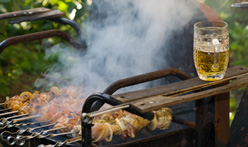 ---
LARGE GROUPS
Do you allow weddings?
Unfortunately we are not able to cater for weddings at this time.
Do you allow Stag/Hen Dos?
This depends on the bookings that have been taken, and the size of the party. Please contact us to discuss further.
Do you allow big groups?
Yes we can cater for big groups, please contact us directly to discuss your requirements.
Can we hire out the whole campsite?
The site is large and depending on the size of the group could be prohibitively expensive. Contact us to find out if we can help.
---
OTHER
How far are you from Bedgebury Pinetum?
Bedgebury camping is a 2 mile cycle ride from Bedgebury Pinetum.