Things to do
Local Activities
Sailing
Bewl Water – sailing
With over 700 acres of water, the size of Bewl Water ensures plenty of enjoyable days out sailing on the lake. There can be few inland waters which can genuinely provide a whole day of cruising but Bewl Water is one of them. The size of Bewl Water ensures that leisure sailors can enjoy their gentle sport without tangling with the racing fraternity – even when a major Open Meeting is in progress. All that's required for exploring Bewl is a dinghy no bigger than a mirror or Wayfarer.
Bewl Water – Racing
The Bewl Valley Sailing Club has an active racing scene. With the following classes having their own starts in the Sunday racing series: Flying fifteens, Laser, Solos, Enterprises, Windsurfers, Fast & Slow Handicap.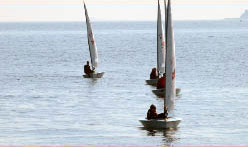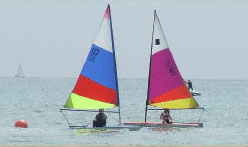 Bewl Water – Tuition and Boat Hire
Bewl Valley Sailing Club is an RYA Recognised Training Establishment and Club Classes and Fleets run their own training programmes. Tuition is provide at all levels for members and non-members, call 01892 890930
Bewl Water – Opening times for Bewl Valley Sailing Club
The Clubhouse is open every day (except Christmas Day) on Saturdays and Sundays from 9am till 6pm and 10 to 3pm Monday to Friday.
The Bewl Water Sailing Clubhouse is open every day. It's been purpose built with separate changing facilities for males and females. On Saturdays and Sundays the upstairs galley serves hot food throughout the year, and on Wednesday evenings from May to September.
Bewl Water – Contact Details
If you are interested in Sailing at Bewl please contact the Bewl Valley Sailing Club on 01892 890930 before setting off.
To enjoy one of the best inland waters why not come and stay at Bedgebury camping, literally a 10 minute drive away.